Projects & Life
CookTiger's Kitchen
Classic Cheesecake
A cheesecake I baked for my dad's birthday :p! Although the cake by itself was fairly easy and took like 1.5 hours, cheesecake is a recurring motif in my baking, and I really find it quite funny 🤣 how long it took for me until I could bake a "normal-looking" cheesecake.
Gyudon & Ginger-Scallion Chicken
I've made quite a few gyudons before but the Garlic-Scallion Chicken was so much fun to prepare! It is one of the many Cantonese dishes that I started relentlessly learning after I started to learn speaking Cantonese.
Century Egg & Pork Congee
Another classic Cantonese dish during my Cantonese cuisine frenzy (which I am still in). In general, cooking congee was so much harder than I initially imagined. You'd thought cooking rice in water would be easy, but nope, you have to constantly stir for like 40 minutes until each and every piece of rice "pops."
Coconut Hotpot
More Cantonese cuisine ❤️ (honestly any dish you see cooked during 2022 Summer can be safely assumed as Cantonese). Don't be tricked by the "raw" ingredients look of the hotpot because preparing them was so hard and time-consuming 😭. Merely the soup base required me to cut open 3 coconuts and meticulously scrap out all their meat. More hours are then spent deshelling, removing the veins in the shrimps, cutting the chicken, etc. etc. :weary:
Generic Congee
Not sure what this congee is :p but in general I am obsessed with the fifty billion variants of congee.
Claypot Rice
More classical Cantonese dishes 🥳. These are quite fast to make, but there are a lot of techniques involved. You have to ensure a high enough temperature at the bottom (and roasting the pot uniformly with super high flames) so that it forms a crispy rice bottom layer. However, the dish also relies on steaming from the rice' moisture to cook the meat and vegetables on top. Consequently, it's super easy to burn everything or undercook everything due to the lack (or too much) of steam/heat/oil. So yeah :D I cooked this dish a lot both for eating and for testing my Cantonese cuisine fundamentals 🔥
Mapo Tofu
Oh dear. Perhaps the single dish I have cooked the most number of times on. It used to be my FAVORITE dish (now it's less clear) so it was among the earliest dishes when I first started cooking. If the Claypot rice is the epitome of Cantonese cuisine, then this dish is the epitome of Sichuan cuisine, as it involves such a delicate balance of spices, sweetness, numbness, and the surprisingly crucial chili oil. I've literally made it for 20+ times over like 5 years and this might be my first ever "successful" attempt that both looks good + tastes authentic.
Dim sum - Siu mai
One of my first experiences with making dim sums, which are delicate bite-sized savory "desserts" that literally translates to "a tidbit of heart." But gosh these are SO HARD to make. The wrap needs to be so thin that you can see everything clearly behind the dough (think the windowpane test but you're not allowed to have gluten 💀). Similarly, the pork and shrimp have to be chopped so viciously that they basically become jello. I spent like 6 hours making this one batch, and even then, the tastes/spices are nowhere near authentic + it was so salty due to the shrimp's salinity 😭. Overall, my biggest takeaway was how much a steal the $6 siu mai at Dim Sum restaurants are.
Another Cheesecake
But this time it looks horrible xD
Banh Mi
For whateve reason, I became obsessed with making Banh Mi around the time, which are vietnamese baguettes that are soft on the inside. They're so easy to make and are so perfect for everything :D. You'll see more of them in the later photos as well.
Creme Brulee 🍮
Nothing too crazy here, just a standard/inauthentic Creme Brulee. I do remember being very happy with the glassy glossy caramel layer tho :p. It was a fun and easy bake, would recommend.
Another Cheesecake
This one actually turned out surprisingly fine (despite several screwups + rescues), although it was extremely short and flat for some reason. The browning on the side tho ❤️
Gingerbread house
This wasn't really "my" baking, but "our" baking. I baked this with my friends during our annual Christmas Cookie Party. I don't think we ever came up with a cohesive story 🤣, but it was something something Santa was a murderer 🩸. If my peeps are watching, love you guys ❤️❤️❤️
Creamcheese cookies
This was an extremely easy recipe, but also one of my few experiences of mass-producing baked goods. I wanted to surprise all my teachers + friends with some cookies, so I spent the night before Christmas break baking like 4 batches of around 50 cookies 😱 It was worth it tho :D
Cream puffs!
This was a rather sad/small cream puff 🤣, but in general pastries are my favorite things to bake. Surprisingly, while I was going through my photos, I realized I didn't take as many photos as I thought, but I really enjoy baking cream puffs, pate a choux, and those sort of desserts.
Kombucha - Fermentation Frenzy
Soooo I kinda got into another phase here -- fermentation. This is actually a second batch of a kombucha SCOBY colony, but for the next month or so, you'll see a lot of my ✨interesting✨ fermentation projects.
Tepache
I LOVE TEPACHE SO MUCH. PERIODT ❗❗❗
Egg Tarts - More pastries
These are technically Cantonese egg tarts, but they are basically the same as Portuguese egg tarts to my understanding. Very yummy, butterily flaky, and quite pleasant to make.
Zongzi - Rice wrapped in Bamboo Leaf (?)
This is a traditional dish for the Dragonboat Festival. It was such a hassle to make, and I couldn't properly wrap the bamboo leaf 🎋 around the rice for THE LIFE OF ME (it ended up leaking a bunch of the rice during the boiling process 💀). But at least now I know how.
More Mapo Tofu
This is one of my first attempts that actually looked like authentic dish, but I remember the flavor being not quite there yet ;-;
Chinese New Year Reunion Dinner
My first time cooking for a big occassion with more than 3 dishes. Spent like 6 hours running around the kitchen, panicking because things were burning at the same time, but it was so worth it 😊
Chocolate chip cookies
Another recurring item in my journey of baking. Needless to say, I've become quite good at baking them 😋
More Mapo Tofu
This attempt both looked bad and tasted bad 😭. Failure on all ends
More chocolate chip cookies
Another attempt at chocolate chip cookies, but I think I mismeasured the baking soda or something, because they turned out extremely dome-y and cake-like 💀
My dad's birthday cake!
This was a rather sloppy attempt at a tiramisu cake. I thought I outdone myself at the time, but in retrospect it was kinda a failure :oops:. But yeah :D, if you compare this to the cake I made for my dad's 2022 birthday, I've come a long way ✨
FAILED Fluffy Omelette
Perhaps my single most disastrous cooking attempt. It tasted SO BAD and also looked SO BAD. While eating, I literally tasted bits of congealed egg whites due to my bad mixing. I tried to counter its ugliness by plating it nicely with some pepper, but I think that just made it worse 💀
Semi-successful Matcha Wrap
This was another baking ambitious project that ended as a solid "meh". I think I deserved credit for wrapping it without leakage + it tasted fine, but this image looks so horrible compared to the original 😢
Meatloaf with Potatos
I started using HelloFresh around this time. To be honest, I enjoyed their services 👀. I've basically never done "Western Cuisine" before, so this was a nice entry tutorial of the basics. That being said, this was one of my sadder attempts 🤡. A few of the later ones look better I swear.
Whipped Coffee
Ah yes, the trendy coffee on the internet during the pandemic. I think I woke up at 6 and beat the coffee mixture all the way to 8 until it became acceptably foamy, just so my dad didn't wake up and get annoyed 🤡. This has since become my favorite way to intake caffeine, but also it takes so much effort to make 😩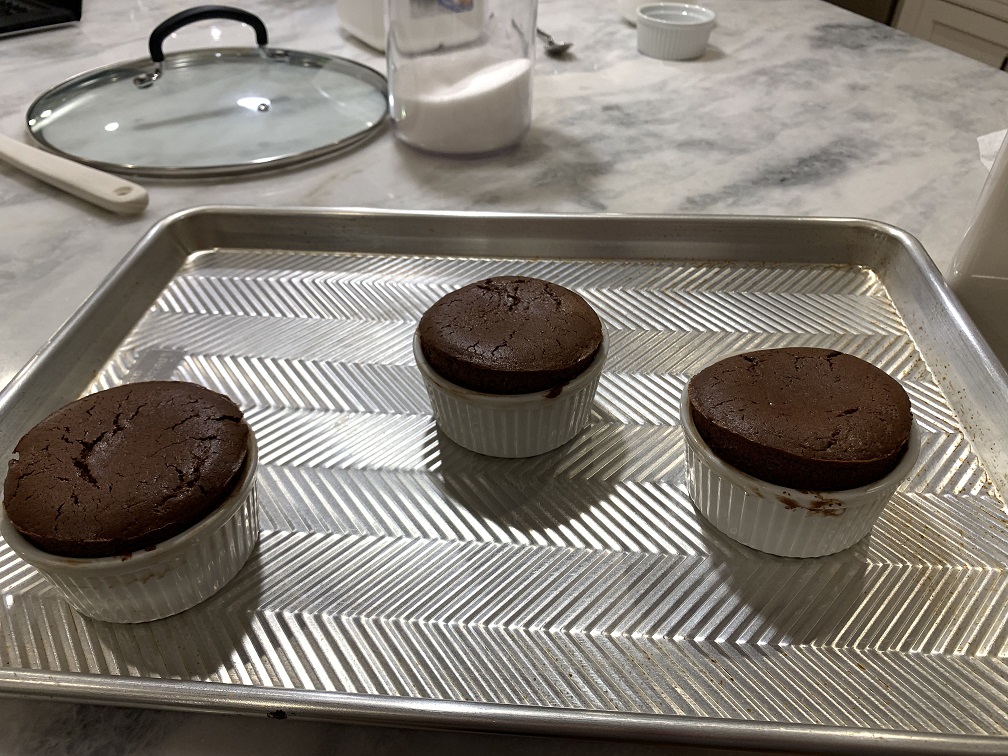 Chocolate Souffle
A successful example of my more ambitious baking projects (it was more elevated but had already deflated when I took the photo 😩). Though frankly, I didn't think it was that difficult, but at least now I can flex to my friends that I've made souffles 😌
More chocolate chip cookies
I don't even remember why this photo is taken at my friend's house, but I do vaguely remember that I made the cookie dough :rooderp:
More cream puffs
My first ever cream puffs 😻😻😻. I think I did something wrong that caused the puffs to basically not expand at all and were consequently super small. Also I wayyyyy over-estimated the amount of custard filling, so I just sprinkled it all around the plates. This might be my worst plating ever 🤡. But it was also where my cream puff obsession began, so no regrets ❤️
Ice cream Mooncake
I crafted these mooncakes filled with home-made ice cream for the mid-autumn festival :D. Even though this is completely inauthentic (although ice cream mooncake itself is quite inauthentic 🤡), the taste was actually on point 👀. It's even more impressive when you consider how my horrible baking/dough-kneeding skills were at the time.
Tiramisu Cake
Don't be fooled into thinking that I was actually good enough to bake this cake. It's technically a "collaborative effort," but since I was completely trash at baking, my friend Sarah basically did all the work 🤡. It was truly delicious though :D
Generic fried rice
This is where all of my cooking journey began ❤️❤️❤️. I'm getting so nostalgic just looking at this photo. For whatever reason, I decided that I wanted to cook that day, so I made some generic fried rice. In retrospect, the dish was of course horrible, but because my dad said he liked it, or maybe because I actually do have a destiny for cooking, I stuck along with this life-changing journey. Thank you generic fried rice ❤️
Chocolate Sponge Cake
Although I can't really pinpoint this cake as the start of my obsession with baking (common app essay topic 😱), this was my first-ever passably cake-looking cake :rooderp: I was so so so proud when the cake actually tasted chocolatey, had holes in the right places, looked circular/uniform, and risen with a sponge texture. While it wasn't the start, it definitely was a milestone that propelled me forward 🔥